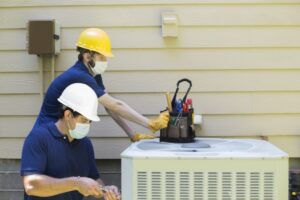 There aren't many things that HVAC professional will tell you that you can do on your own when it comes to servicing your air conditioner. In fact, we actively advise against trying to do AC repairs on your own as it can lead to injury, or at least further damage to your air conditioner that could end up costing you.
HVAC pros have the proper experience, training, and licensing to perform all types of HVAC work. Maintenance is important too! Maintenance allows our technicians to fully inspect, clean, and adjust the components that need it–all of this helps your system work as efficiently and effectively as possible, for as long as possible. It's also a service you should really leave to the pros.
At this point you're likely thinking, "okay, I get it! I won't touch my air conditioner!" But don't you worry, there actually are steps you can take all on your own, without the assistance of an HVAC technician, to boost the efficiency of your air conditioner so you can stay cooler, more affordably. Read on to learn more!