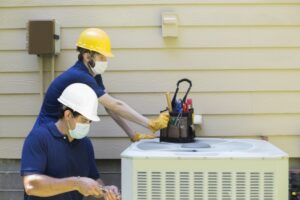 If you're shopping for a new air conditioning system this time of the year, chances are that you're in a bit of a rush to find one. After all, summer isn't over, as much as we would like it to be–and as such, temperatures have not begun to cool off enough that it makes you comfortable enough to shut off the system for the season.
That said, we really want to encourage you to slow down at least a little bit when making this decision for your home comfort. We'll take it as a good sign that you're reading this blog post. It means you want to be informed before you make a purchase! Read on to learn more about your air conditioning system options and how to choose the right system for your specific home and comfort needs.
Central Air Conditioners
Central air conditioners are still the cooling systems of choice for many homeowners in our area, and for good reason! Today's models are highly-efficient, saving homeowners more than ever before on their monthly energy bills.
Your HVAC systems actually account for about half of your home's entire energy usage, so you want to ensure that yours are in good shape and are working as efficiently as possible.
This all starts at installation–when you hire a trained and experienced professional to install your central air conditioner, we start by properly sizing it to ensure that it's not too small or too large for your space–both can be detrimental to efficiency and even equipment longevity.
Heat Pumps
Heat pump systems are set up like central air conditioners, with one major and important difference.
You see, central air conditioners operate by drawing the hot air out of your home, first. Most of that hot air gets exhausted outside, and a refrigerant process cools down what's left to provide your home with chilled air.
The heat pump difference is that the refrigerant process can be reversed so that you can get heating and cool all from one system!
Ductless Systems
Ductless systems, also referred to as ductless mini-splits, operate on heat pump technology. This means they're capable of both heating and cooling your home. The difference here is that they don't need ducts to operate.
Instead, a ductless system just needs one small outdoor unit, connected to up to 4 indoor air handlers, each of which can be installed up over the doorways in the rooms they're needed. This keeps them out of the way and convenient.
The air handlers can be independently controlled from each other, meaning you don't have to cool or heat the entire home all at once if that's not what is needed or wanted. This makes ductless systems an extremely popular choice for people in multi-story homes or people with large families.
Dual Fuel Systems
A "dual fuel" system is actually a heating system, but if you're looking to replace your furnace and your air conditioner right now, it could be a great option!
Dual fuel systems combine the power of a heat pump system with an efficient backup furnace for when temperatures get too chilly in the wintertime. Please don't hesitate to contact us to learn more about these systems!
Contact Premier HVAC Services for professional Hagerstown, MD air conditioning services!