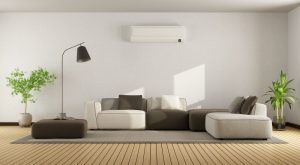 Not every home will benefit greatly from going ductless, but many homes do!
We get it, there are a number of options available when shopping for a new air conditioner. It can feel overwhelming. And if you already have a conventional central air conditioner in place, it's easy to assume that's the best choice and upgrade to another more efficient central AC system.
And this might be the right choice—but what if your ductwork is also in bad shape? Or what if you're looking to expand your air conditioner's reach due to a remodel but you can't add additional air ducts? Or what if you simply want more efficient cooling, and wouldn't mind more efficient heating as well? Then consider the installation of a ductless system!
Exploring the Ductless Solution
As the name indicates, a ductless cooling and heating system uses no ductwork to complete its job. Rather than a split system with an outdoor unit and a single indoor unit, a ductless system is comprised of a smaller outdoor unit and up to four individual air handlers.
Each of these air handlers is mounted high up on the wall in its intended rooms, and connected to the outdoor unit via a conduit. This conduit contains a refrigerant line, a power line, and a condensate drain line. The ductless setup enables improved efficiency, saves space in your home, and zone-controls your heating and cooling, which helps complement the preferences of every member of your household.
"Will a Ductless System Work in My Home?"
Like we alluded to above, a ductless system is not the right answer for every home. For example, if you live in a studio apartment, a portable system or even traditional central air conditioning might be a more financially beneficial decision. Ductless cooling and heating systems are more expensive to install, after all—though it bears mentioning that they cost less to operate from month-to-month in the right home, which is part of what makes them appealing.
If you live in a multi-level home or a house with many bedrooms, then a ductless system can be the perfect choice for you. This is because of the naturally zoned heating and cooling it provides. You could have one room set to be cooled and have the air handler completely turned off in another room for someone who doesn't want cooling at the moment. You could even have it completely cooler in another room.
What to Know About Ductless Maintenance
As we mentioned, ductless systems both cool and heat. This is because they operate on heat pump technology. The flip of a switch signals a reversing valve, which switches the direction the refrigerant is flowing. But this means that ductless systems are year-round systems. So while a traditional central air conditioner only needs maintenance once a year, and a furnace only needs maintenance once annually, you'll need to schedule maintenance every six months for a ductless system.
The good news here is that you only have to worry about paying to maintain and repair one system for many years.
Ready to learn more about ductless AC systems in Hagerstown, MD? Great! Contact the team at Premier HVAC Services today to get started! The Experience You Deserve.