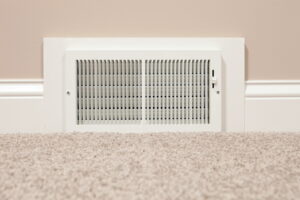 If the time has come for you to purchase a new furnace, you may find the options a bit overwhelming. Minor choices can have a huge impact later on the level of efficacy and efficiency of your new system. Therefore, it's essential that you do your research and consult with an experienced professional before making your furnace purchase.
An inefficient furnace could leave you with skyrocketing utility bills and more repair needs than you signed up for over the years.
So be sure to partner with a pro in this decision-making process. Once we help you determine the make and model of furnace you'd like, the next decision to ponder is what fuel source you'll be using. In most cases, you'll have the choice between a gas furnace and an electric furnace. And just because you've always had one type doesn't mean you can't switch to a different type.
Read on as we go over the differences between each furnace type to help you decide if an electric furnace is a better option than a gas furnace for you.
Consider Lifespan
The lifespan of a gas-powered furnace, when well-maintained, is 10–15 years. This means you have to keep up on any recommended repairs, too, as even though a gas furnace isn't inherently dangerous, something like a cracked heat exchanger could become hazardous.
An electric furnace, depending on the make and model, may last longer than its gas-powered counterpart—potentially 15–20 years.
Installation
If you've already had a gas-powered furnace in place, it might make the most sense to go with another, high-efficiency, gas furnace. These are large and complex systems, so they do require trained professionals to install them.
And you don't get to install your own if you choose to go with an electric system either. Electric furnaces need just as much expertise from our professionals to ensure the installation goes off without a hitch. However, because there is no venting system required, installing an electric furnace is typically quicker, easier, and more affordable than installing a brand-new gas-powered furnace.
Cost
We can't forget to mention the cost! Generally speaking, the purchase price of a gas-powered furnace will be more than that of an electric furnace. But since natural gas is a less expensive fuel source than electricity, you will likely find that you pay less over the lifespan of the system than you would with an electric furnace.
Maintenance and Safety
As we mentioned above, both gas and electric furnaces need maintenance, especially to operate as safely as possible. We also mentioned how gas furnaces aren't inherently dangerous, and this is true! As long as you keep up with your maintenance appointments, we'll be able to spot trouble before it even starts.
Still, when you have any appliance that's powered by natural gas, there will be a minute risk. This is why it's important to have your home equipped with carbon monoxide detectors! But also, some homeowners do opt to go with an electric furnace so they don't have to worry about this factor at all, especially if all the other appliances in their home are already electric.
When you are ready to install either a gas or electric furnace in Fayetteville, PA, look no further than Premier HVAC Services. Contact us today!