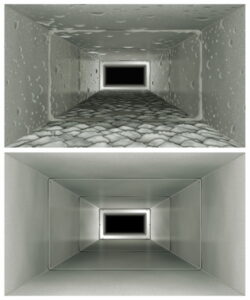 It's the season of giving and we have an idea for an amazing gift that'll keep on giving all year long. Why not treat your home to professional duct cleaning for the holidays? Professional duct cleaning is an essential part of home maintenance. Not only does it improve your indoor air quality, but it also helps your home's HVAC system run more efficiently.
Dirty ductwork is responsible for many home comfort and health issues. But many homeowners neglect the maintenance of ductwork because ducts are out of sight and out of mind. Professional duct cleaning is something homeowners should schedule on a regular basis, especially if anyone in your home suffers from allergies or is immunocompromised.
If you suspect your home would benefit from professional air duct cleaning in Greencastle, PA, read on to learn about how it'll help.
How Do Ducts Get Dirty?
Some people think that because they can't see proof of dirty ducts in their homes, they don't have an issue. But over time, your home's ductwork inevitably accumulates dirt, dust, and other airborne particles. Although your system has an air filter in place to collect this particulate matter, it won't catch everything.
Your system's air filter is placed at the return duct, where air first enters the system. The rest of your air ducts remain unprotected. Particulates can infiltrate the ducts via cracks in the ducts, through the vents, or just from years of sitting untouched.
What Could Be Lurking in My Ducts?
Dust and dust mites
Dirt and debris
Pet dander
Pollen and fungal spores
Mold and mildew
Bacteria and viruses
Rodents, insects, and their feces
How Dirty Ducts Decrease Your Home Comfort
Allergies and respiratory issues: Particulates are aggravating to anyone, but they're especially detrimental to those who suffer from allergies and respiratory issues. If you or your family members suffer from bad allergies or are sick frequently, dirty ductwork might be a contributing factor.
Reduced airflow: The buildup of gunk and junk in your ducts will hinder the airflow in your home. This will cause your HVAC system to take longer to cool or heat your home.
Irritated skin: Is your skin dry and itchy and you aren't sure why? The mold and mildew circulating in your air can cause dry, itchy, scaly skin. Poor air quality will also worsen skin conditions such as eczema, psoriasis, and dermatitis.
When to Schedule Duct Cleaning
Duct cleaning isn't something you should need on an annual basis like maintenance. We recommend scheduling this service every 2-3 years. How frequently you need duct cleaning will vary depending on the number of people in your home, your use of your HVAC system, and the quality of your ductwork.
When our Greencastle HVAC pros manage your ductwork cleaning, we'll use specialized equipment that only professionals have access to. We'll make sure the job is done right the first time.
Premier HVAC Services is your trusted resource for professional indoor air quality services. Contact us today!