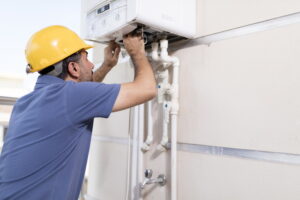 Boilers are among the most powerful and reliable heating systems on the market for homeowners. Because they don't use as many moving parts as heat pumps or furnaces, they also don't accumulate as much wear and tear, plus in general they last longer too.
However, there's no guarantee that your boiler will never give you any trouble. At some point you may, and likely will, need to call for boiler repairs. But how do you know when this service is needed? We're glad you asked! Read on to learn some of the common signs of a boiler that's struggling.
Rumbling or Rattling Sound
No, your boiler is probably not going to explode, or something extreme like this. However, when you hear a rattling or rumbling noise coming from a boiler, it probably does mean something is amiss.
One possible culprit of this noise is that the circulating pump is malfunctioning and shaking inside its casing. This is one of the mechanical moving parts of a boiler, so it does need to be monitored–which we do during your annual maintenance appointments. If the noise is coming from inside the tank of your boilers, it likely means that there is build-up on the bottom of the tank, which will cause overheating and make your boiler less efficient.
Leaks
You should never see water escaping from your boiler, since it is designed on a closed-loop system. If you do discover water puddling around the tank of the boiler, don't mop it up and ignore it. Leaks put the boiler at risk in a number of ways, and our repair experts need to seal up the leak and replace the lost water.
Heating Delays
If you've had your boiler for a couple of years now, then you pretty much know how long it takes, on average, for the house to heat up once the boiler cycles on. If your home is still heating up, but it's taking much longer to do so than it used to, there could be a circulation issue with the boiler. If your boiler is old (15-20 years) this might indicate it's time for a new boiler. For a newer boiler, technicians can target what's wrong and have it fixed.
Odd Smells Around the System
A boiler giving off unusual smalls is almost always an ominous sign. If the smell is acrid, such as burning plastic or metal, then there could be trouble with the circuits (this is true for a gas boiler as well).
If the smell is like rotten eggs, you might be looking at a gas leak, which is a serious issue. Shut off the gas to the boiler, give your gas company a call, and once they give you the all-clear, give us a call for repairs or to discuss your replacement options.
Higher-Than-Average Utility Bills
If your utility bills are higher than they normally are this time of year, it's a sign that something is working inefficiently, and it could very well be your boiler system.
Contact Premier HVAC Services for reliable heating repair in Williamsport, MD.