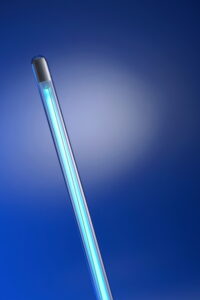 After a year of going through a pandemic, homeowners are aware now more than ever how important the quality of the air they breathe is. What you may not know is that, with the right indoor air quality products and services, you can greatly improve the quality of your indoor air.
Without the right products and services in place, your indoor air quality can actually be worse than that of outdoors!
While no product will 100% guarantee the lack of virus transmission in a home, something like germicidal lights, otherwise known as a UV air purifier, can certainly help lower the risk. Read on as we dive into what this type of air purifier is all about.
So, How's Your Indoor Quality?
As we just mentioned, your indoor air quality can be worse than that of the outdoors, without the right measures in place. This is even more the case for newer homes, believe it or not. This is because today's homes are built very "tightly," in order to prevent the transfer of air through drafty windows and doors.
This is fantastic news for HVAC efficiency. Whether it's winter or summer, you won't have to worry about your conditioned air being wasted, nor will you need to worry about your energy bills spiking higher than necessary. But this isn't such good news for your indoor air quality, since it means that contaminants and pollutants can't make their way out of your home either.
What's the Deal with a UV Air Purifier?
There are a number of great indoor air quality products on the market. For instance, whole-house air filtration systems are great for ridding your air of dust and allergens already floating in the air.
Electronic air purifiers take this a step further and are able to remove contaminants like VOCs (Volatile Organic Compounds) and viruses from the air.
Then there is the UV air purifier, designed to get rid of contaminants that can grow and develop inside your ductwork. The great thing about germicidal lights is that they attack the contaminants at the source, before they even have the chance to enter your indoor air.
But what contaminants are we talking about, exactly? Namely microorganisms like mold, mildew, and bacteria. All of these can wreak havoc on the health of even the healthiest members of your household. It can be even worse for those who suffer from asthma or allergies and who are already susceptible to harmful symptoms.
UV germicidal lights eliminate odors by killing the pollutants that cause them, and they're very easy for our team to install. Plus, they save space! UV air purifiers are installed directly into your ductwork where they are needed, so they don't take up any room in your home.
Lastly, UV lights help rid your HVAC system and home of contaminants that other air purifiers simply cannot reach. You may find the best results through a combination of this type of air purifier with an electronic air purifier or whole-house air filtration system.
Contact Premier HVAC Services to learn more about Hagerstown, MD UV germicidal light installation.