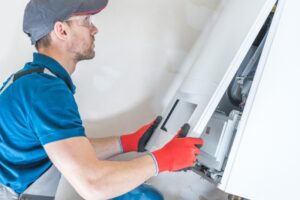 Chances are, after the long and hot summer we just experienced, you might not be thinking too much about the condition of your heating system, and we don't blame you! Temperatures have only just begun to drop low enough to consider turning this system on, and you may be hoping this will be a warmer fall. That would be nice, but the truth of the matter is it's very likely you're going to need a reliable heating system on a daily basis very soon.
Routine professional maintenance is the service you need to ensure that you can rely on your heater, all fall and winter long. Read on to learn more about why this is such an important HVAC service, and why you should schedule it sooner rather than later.
Yes, You Really Need Maintenance
Sure, there is always the possibility that your furnace or heat pump will make it through fall and winter "just fine" without a maintenance tune-up, but it's going to come with efficiency and financial sacrifices. Maintenance is one of the best services you can provide to your heating system. When one of our professional technicians completes a tune-up and inspection–followed by repairs later–your system performance will improve in many ways.
It will reduce wear and tear on your system, which can extend equipment lifespan.
It will reduce repair needs by as much as 85%.
Your energy bills will drop when your heater runs better.
Does a New Heater Need Maintenance?
A brand new heating system should not need to have professional maintenance done, as long as it was installed by skilled and experienced HVAC technicians. However, if you used your heater last year or a couple of years ago, it's time to start scheduling this service.
Even a heating system that was installed just a year ago can benefit from professional maintenance. Keep in mind that professional maintenance can even keep your system's warranty current. In addition to that, maintenance helps reduce repair needs and increases the lifespan of your HVAC equipment.
When is the Right Time to Schedule Maintenance?
For your heating system, technically the best time to schedule professional maintenance is right now, in the fall. It's before you need your system the most and when it will be the most beneficial.
However, we want you to keep in mind that consistency matters far more than timing. If you get to the middle of winter and discover that you still haven't scheduled maintenance, it's better to do it ASAP than to skip it until next year.
"I Don't Want to Pay for a Service I Don't Need Right Now"
We understand this line of thinking. Your heating system is working and doesn't need repairs right away, so why should you pay for service now when you don't really need it?
Well, because professional maintenance is a preventative service. By reducing repair needs and helping your system perform more efficiently, it reduces the long-term costs of owning and using a heating system. In the long run you'll save money on repairs you'll never need, premature replacement that you won't need, and energy bills that will be a lot lower than they would have been otherwise.
To schedule your heating maintenance in Hagerstown, MD, contact Premier HVAC Services today!