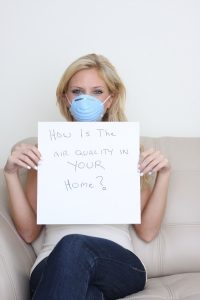 Homeowners throughout the country have, understandably, become more cognizant of how healthy the air is that they breathe indoors. With the Coronavirus outbreak, families are seeking ways to keep their own homes healthier and safer.
While there is no guarantee that a particular product or service will significantly reduce the risk of virus transmission, there are steps you can take toward a healthier home. By implementing some best practices for a cleaner and more breathable home, homeowners can help improve their immunities and limit the risk of catching germs and viruses.
When Did You Last Have Your AC Cleaned?
Hopefully, you'll answer "this past spring" to this question. We do recommend professional tune-ups each spring for your air conditioning system–and each fall for your heater.
An essential part of these maintenance appointments includes our technicians comprehensively cleaning your HVAC systems, inside and out, including:
Your blower fan
Your condenser and evaporator coils
Your air filter (Also, you should be changing this every 1-3 months)
Keeping the AC system clean is one of the most important steps in keeping an indoor environment healthy, but it's definitely not the only step.
Consider Your Ductwork
Air flows through your system's ductwork and exits through the ventilation system into each room of your household.
If these air ducts are full of contaminants such as allergens, mold spores, or even debris from outside, they will get blown into your home and create problems–especially for folks who already suffer from allergies or asthma.
Get the Right Indoor Air Quality Products in Place
A clean air conditioner and air duct system covers the basics. But to truly achieve cleaner, more breathable air in your home, you'll want to consider what indoor air quality products and services will most benefit you. A whole-house air purifier or air cleaner is a great choice for almost all homes!
There are different types of whole-home air filtration and air purifiers on the market, and we work with a wide variety of them. For instance, you might consider the installation of a UV air purifier.
Rather than drawing contaminants out of the air, a UV air purifier attacks particles like mold spores and bacteria right at the source–your ductwork–before they even have the chance to enter your indoor air.
When it comes to investing in an air purifier for your home, there may be more than one viable option. Many times, homeowners find that a combination of indoor air quality products helps keep their homes healthier and more comfortable.
This may mean investing in a combination of a UV air purifier, electronic air cleaner, dehumidifier, ERV system, and more. Dehumidifiers work to keep your humidity levels at a comfortable level to help you avoid the property damage and health problems that can come with excess moisture.
An ERV system, or energy recovery ventilator, allows you to enjoy fresh outdoor air that's been pre-cooled or pre-heated, while still using your HVAC system with no loss of efficiency.
To learn more about our indoor air quality solutions, or to schedule Hagerstown, MD air purifier installation, contact Premier HVAC Services today!