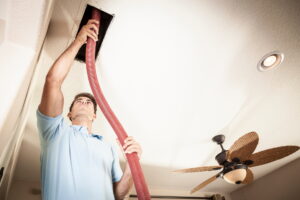 If you want to schedule an air duct cleaning for your home, now is a great time to do so. Your air conditioner takes on the most strain during the summer months, which are just around the corner. You want to have your air ducts in great shape before the demand of summer is upon us.
If you're ready to schedule a duct cleaning in Chambersburg, PA, our team would love to help. We're experts at all things related to heating and cooling, including your ductwork! You can also keep reading if you want to learn more about the benefits of air duct cleaning. Then give us a call to schedule your appointment. 
Why Spring Is the Best Time for Duct Cleaning
We may live up north, but it still gets very hot in the summer. Your air conditioner has to work around the clock to keep your home cool. And you want your AC to work as efficiently as possible to cool your home without having to spend more on your energy bills. Don't wait for the strain of summer's heat to set in before scheduling a duct cleaning service. 
Scheduling an air duct cleaning is a great way to improve your AC's energy efficiency. Our team can clean the inside of your air ducts to remove excess dust and dirt and then sanitize the surfaces. We can also inspect your air ducts during the process and make any minor repairs that are needed. It's the all-in-one appointment that your air ducts need. 
Benefits of Duct Cleaning
Duct cleaning benefits your air conditioner, your home, and your family. Duct cleaning can lighten the load on your air conditioner so it doesn't have to work as hard to produce the results you expect. As dust and dirt accumulate in your air ducts, the particles can stir up when air flows through the ducts and interfere with airflow. Cool air may get trapped in the ducts instead of blowing into your home. 
That same dust and dirt that is getting stirred up can then blow out of your air vents and into your home. This can make surfaces around your home dusty and dirty, no matter how many times you wipe them down.
It also negatively impacts your family's health when you're breathing those particles in. Dust and dirt can trap bacteria and viruses, helping them recirculate through your home. After investing in duct cleaning, you want to make sure you change your air filter on time each month to prevent particles from entering the system again. 
Signs Your Home Needs Duct Cleaning
How do you know when you need to schedule duct cleaning? The number one sign is noticing that surfaces around your home are getting dusty more frequently. If it feels like you just wiped down the surfaces around your home and they are already dusty again, your ductwork may be to blame. If you're getting sick or experiencing allergy symptoms more often, that's also a sign that you need duct cleaning because of poor indoor air quality.
To schedule your duct cleaning service, contact Premier HVAC Services today!