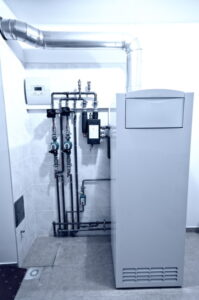 Boilers are a tried and true method of heating your home. If you're the owner of a boiler system, you've undoubtedly recognized how solid and dependable your boiler is. Boilers are not only reliable, but the radiant heat they supply can also feel especially cozy and comforting in our frigid Pennsylvania winters. 
Although it may seem like your boiler will never need to be replaced, not even boilers last forever. If you're contemplating whether your boiler needs to be upgraded, you've come to the right place. Read on to learn about the benefits you'll enjoy when replacing your boiler. We're your top choice for boiler service in Waynesboro, PA.
Advances in Technology
Although steam technology has been around for centuries, today's modern boilers are much more advanced than boilers from 100 years ago. They've been designed to become more energy efficient and to reduce the amount of energy they use. Not only will a new boiler reduce your carbon footprint, but it'll also reduce your energy bills.
New-and-improved boilers make the most of their energy source. When you consider that for most homes, the heating bill makes up 50 to 60% of your energy use, which can add up a lot over the course of the winter.
More Dependable Heat
Have you noticed that the performance of your boiler has been lagging? Perhaps it's not heating your home as quickly or as efficiently as it did before. With a replacement, you'll return to that optimal level of warmth, coziness, and comfort. This is the benefit you'll notice most when updating your boiler. When you turn it on, you'll enjoy the quick effect of a fully working hydronic heating system.
Fewer Repairs
You won't have to worry about repairs with a new boiler. If your older boiler has needed some costly repairs, you'll have peace of mind knowing you won't need repairs for a while. Even better, once you have invested in a new boiler, you'll enjoy your system for a long time since new boilers have a long lifespan.
Less Noise, Smaller Size
Modern boilers have been designed to take up less space and to run more quietly than the systems that came before. This comes with the added benefit of having more options for where to set up the boiler. It'll be easier to keep it out of sight, giving you more space in your house.
Energy Efficiency
Perhaps your older boiler had a lower efficiency rating than you'd like. Modern boilers are assigned an annual fuel utilization efficiency (AFUE) rating. This rating reflects how much energy is being converted into usable heat.
Boilers being manufactured today must have an AFUE rating of at least 80%. High-efficiency models have ratings in the 90-98.5% range. The higher the efficiency rating the more the boiler will cost, but the operating costs will be much lower.
We have the expertise and experience with boilers to advise you on the best AFUE rating for your home's new boiler. Compared to boilers from 10-20 years ago, your new boiler will be efficient, streamlined, and will last you many years to come.
To schedule your boiler repair or installation, contact our team here at Premier HVAC Services. We deliver the experience you deserve!