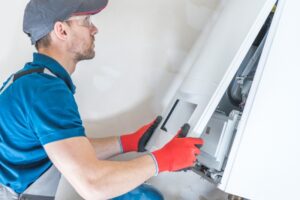 Chances are, you haven't given a whole lot of thought to the state of your heating system lately, and we get it. Temperatures have been warm this year, and around here we tend to welcome those warm temperatures for as long as possible. Still, fall will be here before you know it, with winter shortly behind, and you'll want to ensure that your heater is ready … by scheduling a maintenance tune-up.
Routine maintenance eliminates a lot of the stress homeowners would otherwise deal with. Read on to learn why you should schedule professional heating maintenance as soon as possible.
"Wait, Do I Really Need Maintenance?"
There's always a chance that your furnace, boiler, or heat pump could make it through winter "just fine" if you skip maintenance this year. But you're increasing the chances of wear and tear, and even an unexpected breakdown, especially if your heating system is 10 to 15 years old. Maintenance helps your heating system by:
Reducing wear and tear to the system, which can potentially extend equipment lifespan in the long term.
Eliminating up to 85% of the repairs that your heater may ever need in its lifetime.
Reducing your energy bills as it helps the heater work as efficiently as possible.
"My Heater Is New, Does It Still Need a Tune-Up?"
If you have a brand new heater that's only been installed this year, then no, you don't need to schedule maintenance for it. If you had the system professionally installed, then all safety checks were done at that time. But if your heater was used even just last winter, then you do want to call and set up a maintenance appointment.
Even year-old systems can benefit from maintenance! For instance, some warranties are only valid if you have regular, professional maintenance done. Also, as we mentioned above, maintenance minimizes wear and tear, which means the heater is less likely to have a sudden breakdown.
Take Advantage of Our Maintenance Deal
If that's not reason enough to go ahead and schedule heating maintenance, then take a look at our latest promotions, which include a heating super tune-up special!
When you enroll in our maintenance program, you get a number of benefits, including a lifetime guarantee on repairs, discounts on parts and labor with HVAC repair, 24/7, lowered utility bills, and much more.
"But, Maintenance Still Costs Money"
You're right, it does. But in the long run, maintenance helps you save money, by eliminating many of the repair needs your HVAC systems will need in their lifespan and by extending that lifespan. Plus maintenance helps these systems work more efficiently, effectively lowering your monthly costs.
Catching problems early through maintenance means you get to save on emergency heating repairs too, as well as the accrual of wear and tear that can lead to a premature system breakdown.
Please don't hesitate to give us a call with any questions you might have about enrolling in our maintenance plan, and don't forget to take advantage of our heating super tune-up special!
To schedule your heating maintenance appointment, get in touch with Premier HVAC Services today!