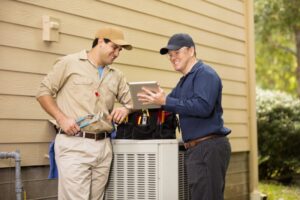 We're still spending a lot of time indoors these days, right? Naturally, this means we all want to stay as comfortable as possible, affordably as possible. This will be a lot harder with a broken down air conditioner, right? This is why you want to make sure that you're taking good care of yours by staying on top of repair needs.
Whether you're using a central air conditioner, heat pump, or a ductless system, maintenance and repairs is what's going to keep it going, and keep your home as cool as possible. Remember though, even with maintenance, repair needs can crop up every now and then. Fortunately, you have our team on your side for when this happens.
So how do you decide if your air conditioner needs a repair and that it's time to call our pros? While some repair signs can be subtle, there are still things you can look and listen for, including:
Strange Noises Coming From the Unit
Air conditioners certainly are not silent systems, but there are the normal sounds of operation, and then there are sounds you should not hear. The latter includes clanging, banging, hissing, or really anything that you've never heard before.
Nobody knows better than you do the sounds your AC makes through the day. Trust your gut on this one: if there is a weird noise give us a call so we can investigate.
Your Home Is Excessively Dusty
Have you noticed dust and dirt coming from the vents when you run the air conditioner? This can be an indicator that you need serious duct cleaning. Alternatively, it could be that your ducts have damage to them and they are letting in outside air. If this is coupled with low airflow, please don't hesitate to give us a call.
Your House Has Weak or Warm Airflow
Weak airflow can sometimes be caused by a clogged air filter, so this is where to check first. we recommend you change or clean out your air filter every 1 to 3 months during periods of system use.
Alternatively, you could have a refrigerant leak, which is more serious and definitely requires the help of a professional.
Your Energy Bills Are Higher Than Average
Take a look at your energy bills. Are they a lot higher than they were this same time last year, despite similar use? If you can, compare your bills to what your neighbors are paying. If your costs are much higher, it's a sign that something is causing the system to work inefficiently and your air conditioner is struggling to do its job.
The System Is Short-Cycling
This is the name given to the process where an air conditioner turns on and off rapidly, never actually completing a full cooling cycle. Short-cycling is not only the symptom of a potential problem, but it's the cause of future problems. This isn't an AC issue that you want to wait to have managed.
Contact Premier HVAC Services today for professional
AC repair in Hagerstown, MD.