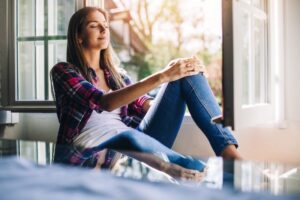 There is a fairly common misconception about the air filter that comes standard in HVAC systems. That is, this air filter is in place to protect the indoor air quality of the house. It's actually not intended for this purpose at all! We'll get more into that below, but our point is, if you truly want to tackle indoor air quality problems—especially those that cause allergy and asthma symptoms throughout the household—you'll want to invest in a whole-house air filtration system and/or whole-house air purifier.
The first thing you should know is that a huge reason more and more homeowners are investing in these systems is due to the way they mitigate virus transmission. No indoor air quality product can guarantee 100% protection from germ and virus transmission, but they can absolutely mitigate the risks you may face. Read on to learn more about whole-house air filtration and purification!
Why Your HVAC Air Filter Isn't Enough
There are a number of homeowners out there who believe their standard HVAC system air filter is enough to protect their indoor air quality. This is just not the case, unfortunately. Sure, they don't do anything to hurt your indoor air quality, and may help a little big since they do draw in dust, dirt and debris from the air.
But like we said above, this protects your HVAC system, not your indoor air. It's a very important component, but if you want a healthier home, you'll want to consider a whole-home air filtration system or air purifier.
What Makes Whole-House Air Purifiers Unique?
When you hear the term "air purifier," what do you envision? Perhaps it's a little robot-type appliance sitting on top of your dresser or on the floor. These are air purifiers, but portable air purifiers, and they're not effective for much else than a single bedroom or very small studio apartment. They won't give you significant results if you have a home any larger than that.
Instead, you should consider having a whole-house electronic air purifier and/or a UV air purifier installed, each of which have a number of benefits. The electronic system draws dust, dirt, and viral particles from the air, while the UV air purifier is installed in the ductwork and kills the source of viruses and bacteria before it even has the opportunity to enter your air.
Whole-House Systems Are Cost Efficienct
As we mentioned above, portable air purifiers are really only effective for the one room that they're installed in. So that would mean for a four-bedroom house you'd need up to six (one for each bedroom, one for the kitchen/dining area, and one for the living room) to adequately address your indoor air quality needs.
This means replacing the filters in six different systems, and listening to the noise associated with each one, too. Whereas with a whole-house system, the unit can be installed right inside your ductwork, where it's much quieter and has fewer maintenance needs.
Contact Premier HVAC Services for expert indoor air quality help in Hagerstown, MD.