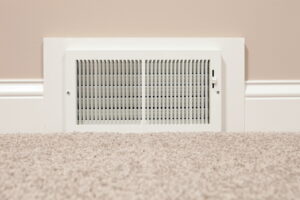 It may almost be spring, but you know that our temperatures can stay cold for a while, and if you still need your furnace you're going to be glad to have a fully effective and efficient system to work with.
Wait, what's that? Your furnace isn't working that efficiently? If you've found yourself paying more than you think is necessary every winter for your heating needs, then there might be something that's preventing the furnace from operating as well as it could.
Professional maintenance is essential in preventing issues and keeping efficiency high, but there are some extra steps you can take that will boost efficiency even more. Read on to learn what they are!
Consider a Thermostat Upgrade
The thermostat that controls your furnace and your central air conditioner might seem like a pretty small and insignificant part of the climate control in your home, but it's actually really important, as it serves as the "brain" of your HVAC systems, enabling you to communicate with them.
Even if you have a digital thermostat from a decade or two ago, you could benefit from an upgrade, especially if you invest in a WiFi or "smart" thermostat, which can learn from your heating and cooling preferences and adjust itself accordingly for optimal efficiency.
Install Weatherstripping to Keep Drafts Out
The heat from your furnace or any other type of heating system can escape out through cracks in the doors and windows of your home. What does this mean? Well, it means that you are losing energy that you're otherwise still paying for.
You may want to consider buying affordable caulking or weatherstripping to seal up drafty doors and windows, which will ensure that the heat from your furnace stays inside your home.
Utilize Your Ceiling Fans
This might seem like a weird tip for boosting heater efficiency, but hear us out!
Yes, during the warmer months, we recommend that you use your ceiling fans in combo with your air conditioner to help cool your home. This helps to distribute the air more effectively, and you might even be able to turn the thermostat up a few degrees, saving energy and money in the process.
This same concept can be applied to your heating system in the winter! All you have to do is flip a switch near the center of your ceiling fan to switch the direction of the fan blades, which helps pull heat down from the ceiling. When you feel warmer, you can adjust the thermostat, and therefore use your heater more efficiently.
Schedule Maintenance!
Professional maintenance is essential. You'll see us mention that a lot in our blog posts, and it's because it's just that important. If you did not have furnace maintenance done this past fall, now is the time to do so. Professional annual maintenance is the best way to ensure that your heating system works as effectively and efficiently as possible, for as long as possible.
Contact Premier HVAC Services for professional furnace service in Hagerstown, MD.